Who's under your underwear?
Most of Victoria's Secret's bras and many of their other products are made by an Israeli company called Delta Galil. Most of the cotton they use is also grown in Israel, on confiscated Palestinian land. The money you spend on VS lingerie, like U.S. tax aid to Israel, sustains the apparatus of Israeli apartheid and ethnic cleansing – home demolitions, checkpoints, restrictions on movement, daily humiliation, land confiscation, imprisonment without charge, assassination of political leaders and indiscriminate killing of civilians.

The Israeli embassy's "Shop Israel" website urges people who support Israeli policies to buy Victoria's Secret products. We are asking people who support human rights and peace to join a growing international boycott of Israeli apartheid by telling Victoria's Secret to stop contributing to the Israeli economy.
Tell Victoria's Secret: Apartheid Isn't Sexy!
Boycott is a time-honored strategy that has been used to change other oppressive regimes, including in South Africa, and can be used now to pressure Israel to end its almost 60 years of occupation.
"The end of [South Arican] apartheid stands as one of the crowning accomplishments of the last century, but we would not have succeeded without the help of international pressure. There is no greater testament to the basic dignity of ordinary people everywhere than the divestment movement of the 1980s. A similar movement has taken shape recently, this time aiming at an end to the Israeli occupation of Palestinian territories. We should hope that average citizens again rise to the occasion." – Bishop Desmond Tutu.
More information on the campaign for divestment, boycott and sanctions against Israel. (Where??)
QUIT! launches Victoria's Secret Weapon with fashion shows at San Francisco Centre and Union Square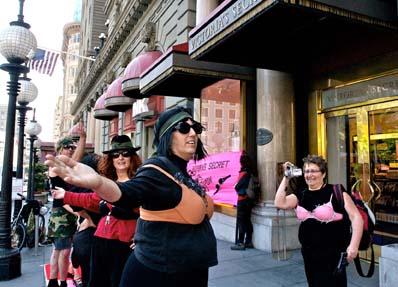 who is delta galil and what does it have to do with victoria's secret?
From the horses mouth: Delta sells its collections to the leading retailers and specialty stores in the world. We offer tailored designs to suit our customers' needs and positioning, which enable them to effectively target their consumers. "Our customer list includes Marks & Spencer (www.marksandspencer.com), Target (www.target.com), Wal-Mart (www.walmart.com), Victoria's Secret (www.limited.com/about/vs), JC Penney (www.jcpenney.com), Hema (www.hema.nl) and others." www.deltagalil.com.
From the Israeli embassy: "Most of the cotton bras in Victoria's Secret and some of the cotton panties in Victoria's Secrets are made by Delta Galil Industries. To be on the safe side, look for a "Made In Israel" label." http://www.israelemb.org/sanfran/shop/clothes/delta.htm.
Jerusalem Post, March 1, 1999: "Delta Galil is the nation's largest manufacturer and marketer of textiles and is one of the largest private-label underwear manufacturers in the world. The company was one of the first local firms to benefit from the peace process, as it moved manufacturing to neighboring countries with low labor costs. Delta currently manufactures in Egypt, Jordan, Turkey and Scotland. Dov Lautman, Delta's chairman and largest shareholder holds 56% of the company and Sara Lee, the world's largest clothing manufacturer, has some 30%. The remainder is traded on the Tel Aviv Stock Exchange."